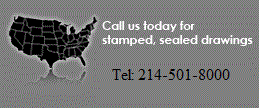 Precision:
We guarantee precision with the use of the latest, state-of-the-art drafting software. Our experienced metal building engineers can design foundations right for your project, saving you time and money.
Quality:
We stand behind the quality of our work. With over 20 years of diverse engineering experience we only design to the highest of standards.
Excellence:
We provide an unparalleled level of excellence. We guarantee your plans will meet or exceed your jobsite building code requirements.
ezFoundations.com can meet your metal building foundation design needs. We have designed foundations for all of the following:



mini-storage building
garage / auto storage building
warehouses
airplane hangars
gymnasiums
commercial buildings
riding arenas
workshops
industrial facilities
retail facilities